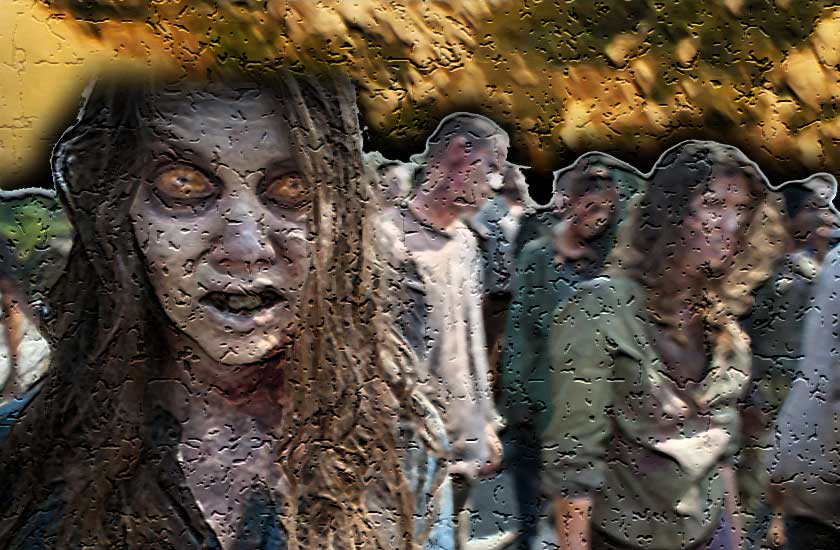 ---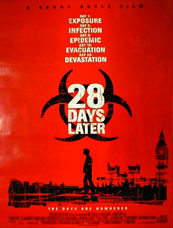 28 Days Later (2002)
Four weeks after animal-rights activists release test monkeys infected with a deadly virus, the virus has spread throughout Great Britain, turned most of the populace into raging, zombie-like creatures, and forced a handful of survivors to search desperately for sanctuary.
Starring: Cillian Murphy, Naomie Harris, Christopher Eccleston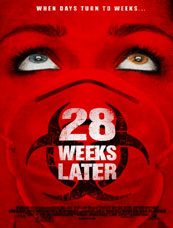 28 Weeks Later (2007)
Six months have passed since the rage virus decimated the population of Great Britain. Now the US Army is helping to secure a small part of London so that survivors can repopulate the city and rebuild society.
Starring: Jeremy Renner, Rose Byrne, Robert Carlyle
---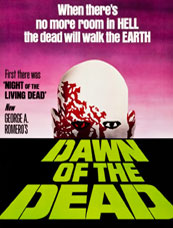 Dawn of the Dead (1978)
In the aftermath of an epidemic of zombies that have risen from the dead, two Philadelphia SWAT team members, a traffic reporter, and his TV-exec girlfriend find refuge together in an abandoned shopping mall.
Starring: Ken Foree, David Early, and David Emge
---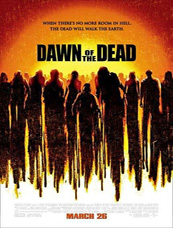 Dawn of the Dead (2004)
A nurse, a policeman, a young married couple, and a salesman are among those who have escaped a worldwide plague of aggressive, flesh-eating zombies. Now the survivors take refuge in a huge Midwestern shopping mall and do all they can to hold on.
Starring: Sarah Polley, Ving Rhames, and Jake Weber
---
---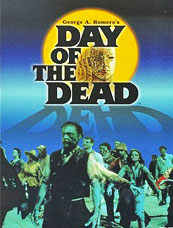 Day of the Dead (1985)

A besieged group of military officers and scientists have built a stronghold in an underground bunker while the world above is taken over by zombies.
Starring: Lori Cardille, Terry Alexander, Joseph Pilato
---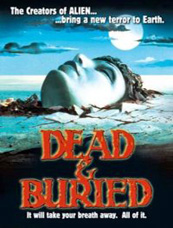 Dead and Buried (1981)

In the small coastal town of Potters Bluff, marauding mobs of townspeople are murdering strangers and innocent out-of-towners. But now the murder victims are coming back to life.
Starring: Nancy Locke, Robert Englund, and Christopher Allport
---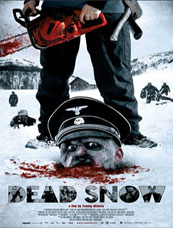 Dead Snow (2009)
What should've been an ordinary ski vacation turns into a terrifying ordeal for a group of medical students, who find themselves fighting for their lives with a murderous band of Nazi zombies.
Starring: Jeppe Beck Laursen, Charlotte Frogner, Jenny Skavlan
---
---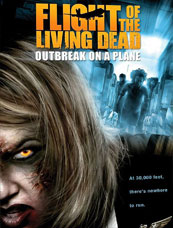 Flight of the Living Dead (2007)
Renegade scientists smuggle a fellow scientist – who's infected with a virus that reanimates the dead – on to a red eye flight from L.A. to Paris. What's the worst that could happen?
Starring: David Chisum, Kristen Kerr, and Richard Tyson
---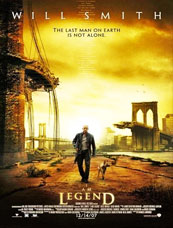 I Am Legend (2007)
Years after a mysterious plague has killed off most of humanity and turned the rest into zombie-like monsters, a lone survivor struggles bravely in New York City, seeking a cure.
Starring: Will Smith, Alice Braga, Charlie Tahan
---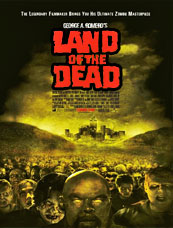 Land of the Dead (2005)
The living dead have taken over the world, forcing the last remnant of humanity to retreat to a walled city in order to save themselves and come to grips with the new, nightmarish world order.
Starring: John Leguizamo, Asia Argento, Simon Baker
---
---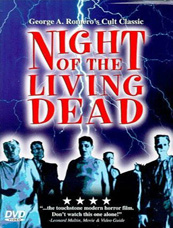 Night of the Living Dead (1968)
Radiation from a fallen satellite is the likely culprit in George A. Romero's original genre-making horror classic, in which the deceased rise from their graves in search of flesh from the living. A group of terrorized people barricade themselves in an old farmhouse in an attempt to survive.
Starring: A.C. McDonald, Duane Jones, and Judith O'Dea
---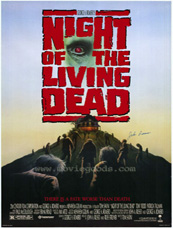 Night of the Living Dead (1990)

In this remake of George Romero's original classic, a group of survivors are again trapped inside a farmhouse while flesh-eating legions of the undead besiege them outside.
Starring: Patricia Tallman, Katie Finneran, and Bill Moseley
---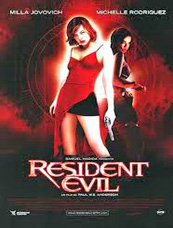 Resident Evil (2002)
A secret bioengineering facility accidentally releases the deadly and mutating T-virus, killing all of its employees. A team of highly-trained commandos is brought in to isolate the virus before it overwhelms humanity.
Starring: Milla Jovovich, Michelle Rodriguez, and Eric Mabius
---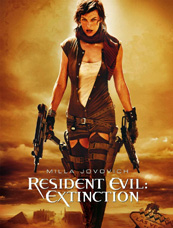 Resident Evil: Extinction (2007)

Survivors of the Raccoon City horror trek across the Nevada desert on their way to Alaska. Alice joins their caravan and becomes part of the fight against the evil Umbrella Corp.
Starring:
Milla Jovovich
, Oded Fehr, and Ali Larter
---

---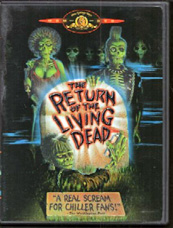 Return of the Living Dead (1985)
When a hapless pair of employees at a medical supply house accidentally release a deadly gas from an old army container, the escaped vapors cause the dead to re-animate, take over a cemetery, and threaten to overwhelm the city of Louisville, Kentucky in search of their favorite food: "Brains!"
Starring: Clu Gulager, James Karen, and Don Calfa
---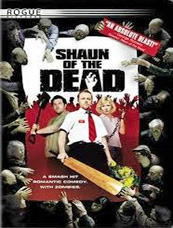 Shaun of the Dead (2004)
A man decides to turn his life around by winning back his ex-girlfriend, reconciling with his mother, and doing battle with an entire community that has returned from the dead to eat the living.
Starring: Simon Pegg, Kate Ashfield, and Nick Frost
---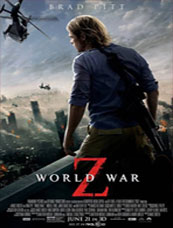 World War Z (2013)
UN specialist Gerry Lane (Brad Pitt) travels the world in a desperate attempt to understand and stop the Zombie pandemic that's ravaging societies and governments – and possibly dooming humanity itself.
Starring: Brad Pitt, Mireille Enos, Daniella Kertesz
---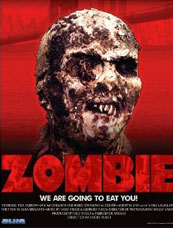 Zombie (1979)
Strangers in search of a woman's father come to a tropical island where a doctor desperately searches for the cause and cure of a terrifying epidemic of the undead.
Starring: Tisa Farrow, Ian McCulloch, Richard Johnson
---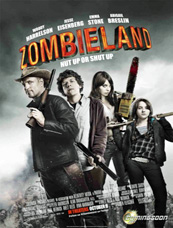 Zombieland (2009)
A shy student trying to find his family, a gun-toting traveler on a quest for the Last Twinkie, and two sisters trying to get to an amusement park band together on a cross-country travelogue in zombie-ravaged America.
Starring: Jesse Eisenberg, Woody Harrelson, Emma Stone
---
---
ZOMBIE TV SHOWS | Top Films | New Nightmare Films | Movie Photos | MORE…
CoverUps.com | HauntedHouses.com | MovieActors.com | MurderMysteries.com