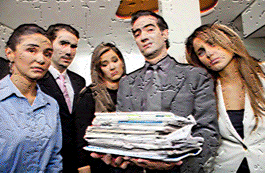 Read real life stories about your worst nightmares coming true. News articles about death, divorce, school shootings, horrible work situations and more.
Top Ten Nightmares -Find out what most people fear by reading our list of the top ten most feared nightmares.
Art Nightmares – Art from the creative mind of SRdZigns that is based on real nightmares.
Death Nightmares – Read articles about the many ways there are to die and why humans fear death.
Divorce Nightmares – Broken homes, crazy exes…read all the scary truths about divorce.
Monster Nightmares – Giant spiders, monsters of the deep, the supernatural brought to life…read all about it.
School Nightmares – Masacres, mean teachers and more. Read about the things that we all fear at school.
Work Nightmares – Disgruntled ex-employees, gossip at the water-cooler, unreasonable bosses and their demands, this section has all your worst work nightmares.