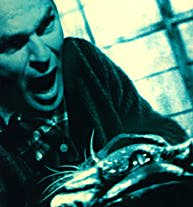 The Invisibles
STARRING:
Don Gordon, George Macready, Dee Hartford, Walter Burke, Tony Mordente, Neil Hamilton, William O. Douglas, and Dick Dawson.
Alien parasites, working with cooperative humans, attempt to take over America.
QUICK SCAN…
Another strange, but effective, story premise: aliens conspire with humans to take over America. Don Gordon fascinates as a G-man who joins the secret alien/human society. Check out Richard Dawson, of "Family Feud" fame, as an aid to a general.
SYNOPSIS…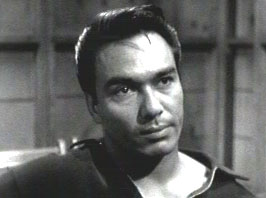 A man joins a secret society, whose goal is the overthrow of America via alien collaboration. It turns out the guy is an agent for a government intelligence unit.
The guy gets a job as chauffeur to a general in Washington. When he sneaks out to call his agency, his true identity is discovered.
The agent is held captive at the general's house. He seeks out a fellow "invisible" who works at a nearby company. He is attacked by an alien creature. Cops show up and kill the alien.

REVIEW…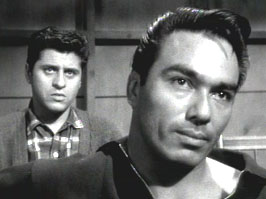 Director Gerd Oswald's, THE INVISIBLES, is a particularly strange tale of alien invasion.
This episode's odd premise is that parasite-like aliens, working with human collaborators, have formed a secret society which is plotting to take over the country. Producer/Writer, Joseph Stefano, is responsible for the implausible yet creepy script.
Early on, George Macready ("The Production and Decay of Strange Particles") the secret organization head, addresses his collection of losers, drifters and outcasts. He explains, "The society you have voluntarily joined is called The Invisibles. It is subversive and illegal. It is also powerful and large. And, it is ready."
Don Gordon ("Second Chance," "Bullitt") is compelling as a government agent who infiltrates the Society of Invisibles. With his handsome face and soulful eyes, he brings depth and feeling to his lines.
It's interesting to see "Dick" Dawson, later known as Richard Dawson, on "Hogan's Heroes" and "Family Feud," as the social secretary to a general's wife. He is typically slick and oily, but at least he doesn't kiss anybody!
The Teleplay, by producer Joseph Stefano, features sophisticated dialogue. At one point, Dawson tells Gordon about the general's wife stating, "She gets so drunk on sad songs." Gordon crisply replies, "Who doesn't?"
The aliens in this episode are like large crabs with fur on their back. While not particularly convincing, they do provide some squirms while on the bare backs of screaming men.
Director of Photography, Conrad Hall, does some inspired work here. Particularly good is a shot of an eye and a sliver of a face, the face in the shadow, watching through a slightly open door.
The music here is your standard, mysterioso stuff. Once again, Dominic Frontiere gets the credit.
THE INVISIBLES should be fairly watchable for most Sci-Fi viewers. Fans of odd-looking aliens will definitely dig this one.


If you liked THE INVISIBLES you
should enjoy:
The Inheritors
,
Corpus Earthling
,
Children of Spider County
.