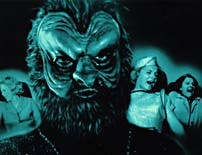 Second Chance
STARRING:
Simon Oakland, Janet DeGore, Don Gordon, John McLiam, and Angela Clarke.
An alien rigs an amusement park space ride to take off for real, with human passengers aboard.
QUICK SCAN…
If you dig "Star Tours" type space flight simulation rides, this is the episode for you. Simon Oakland (Bullitt) is terrific as an alien who kidnaps Earth folk for a trip to his planet. Check out the roomy, two story spaceship set.
SYNOPSIS…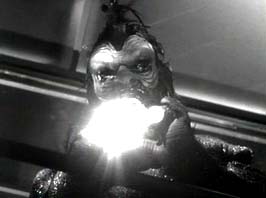 At an amusement park, free tickets are passed out to a simulated space trip ride. The spaceship, altered by a space alien, takes off for real.
The alien explains to the human passengers that they need humans to prevent their world from being destroyed by an asteroid. Most of the passengers freak out, wanting to return to Earth. The passengers plot to kill the ship's human pilot.
The alien reverses the ship's course, returning it to Earth. Two passengers decide to stay with the alien and help him out.

REVIEW…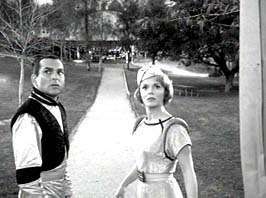 Director Paul Stanley's, SECOND CHANCE, is a nifty, alien abduction yarn.
This episode's story poses a great what if: What if a Disneyland-style space ride took off for real, with a space alien at the controls? The imaginative Teleplay is credited to Lin Dane and Lou Morheim, with Lin Dane receiving Story credit.
Don Gordon ("The Invisibles") under Stanley's sensitive direction, gives a thoughtful performance as a former scientist, now working as the "pilot" of an amusement park outer space ride. He brings strength and sensitivity to lines like, "The possibility of discovering other beings is no longer fantasy."
Simon Oakland ("The Night Stalker") is the alien who abducts the humans. Oakland's rich baritone is perfect for the authoritative delivery of lines like, "Perhaps you were compelled to come here by some sleeping need for unreality. An escape from reality is usually costly. This one is free."
John McLiam ("Sleeper") and Angela Clarke are sympathetic as "The Beasleys," a middle aged couple who haven't gotten any breaks from life. Janet De Gore is okay, in the role of "flight attendant" on the space ride. She looks the part, but is only required to look pretty and/or scared, depending on the circumstances.
Director Stanley cheats the audience by not showing the alien-altered amusement park spaceship taking off. Perhaps the FX guys were not up to the challenge. Too bad!
Director of Photography, Kenneth Peach, makes the most of the roomy, two level space ride set, courtesy of Art Director, Jack Poplin, and Set Decorator, Chester Bayhi. Peach gives us a great shot, over alien/Oakland's shoulder, looking down at Gordon and De Gore on the passenger deck below.
The music is your standard/typical "Outer Limits" score. Dominic Frontiere, as usual, gets the credit for the familiar music.
SECOND CHANCE should be highly watchable for most Sci-Fi viewers. Those into alien abduction tales will dig this episode.

If you liked SECOND CHANCE you
should enjoy:
Counterweight
,
A Feasibility Study
.