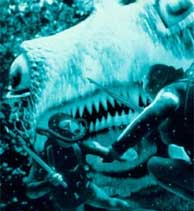 Tourist Attraction
STARRING:
Ralph Meeker, Henry Silva, Janet Blair..
A living, prehistoric sea monster is found in the waters south of the border.
QUICK SCAN…
If you like shows set in exotic foreign lands, this is the episode for you. Ralph Meeker, ("Food of the Gods"), as the crass American tycoon brings new meaning to the term, "ugly american". Note the high quality underwater photography. Henry Silva, ("Alligator"), is appropriately nasty as a Spanish dictator.
SYNOPSIS…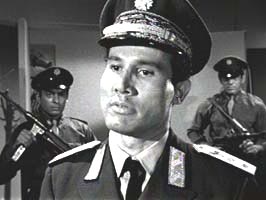 A Latin American country sponsors an unsuccessful World's Fair. Meanwhile, an American businessman discovers a prehistoric, amphibious creature in the waters off the coast.
The businessman captures one of the creatures and brings it to the capital city's oceanographic lab to be analyzed. The dictator of the country takes the creature, to display it at his World's Fair.
The creature communicates to it's fellow creatures. The sea creatures use their sonar power to shatter a dam, flooding and destroying most of the capital city.

REVIEW…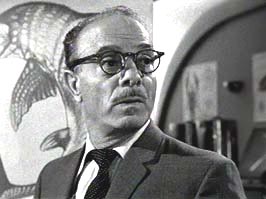 Director Laslo Benedek's TOURIST ATTRACTION is one of "The Outer Limits" weaker episodes.
Ralph Meeker is quite convincing as a boorish American businessman. The fact that he played a similar role thirteen years later, in "Food of the Gods," seems to indicate that he was yet another victim of Hollywood typecasting.
Surprisingly, Janet Blair ("The Fuller Brush Man") as Meeker's secretary/lover, has a complicated and quite adult relationship with her employer. As she explains it to one of Meeker's new employees, "I came with the magazine he bought up last year." Unfortunately, their relationship doesn't do much to enhance the overall quality of this episode.
The amphibious creatures are particularly unconvincing. They look more like refugees from a Chinese New Year's celebration, than they do actual living creatures.
The Teleplay, by Dean Riesner, seems more concerned with Latin American politics, and the troubled relationship between Meeker and Blair, than in the science fiction elements related to the sea monsters. Since the "Outer Limits" was a science fiction series, and not a political drama or adult soap opera, Riesner's story focus seems unfortunate.
A scene of a model dam, exploding, lacks credibility. Special Effects guy, Harry Redmond, Jr. seems to be the guilty party here.
Director of Photography, John M. Nickolaus, Jr.'s work is solid and professional. His underwater photography is particularly good, with enough fish and vegetation moving around to enhance credibility.
The Music Score, by Robert Van Eps, is a mixture of the kind of standard, "spooky" music that "Outer Limits" was famous for. Also well done is his dreamy, "water" music for the underwater scenes, featuring flute and harp.
TOURIST ATTRACTION will not be particularly watchable for most Sci-Fi viewers. "Creature from the Black Lagoon" fans may be somewhat entertained. TOURIST ATTRACTION is not an "E" ticket entertainment!


If you liked TOURIST ATTRACTION you
should enjoy:
The Invisible Enemy
,
The Zanti Misfits
.